MOTOTRBO next generation of Motorola professional radio communications repeater solutions.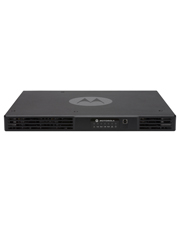 Features
Operates either in analogue or digital mode
Clear LED indicators on front panel indicate operating mode
Repeater disabled
TX/RX status per slot
Rack or wall-mount
Integrated power supply
Interface for battery back-up and charge
Repeater Diagnostics and Control
Digital Conventional, IP Site Connect, Capacity Plus, Linked Capacity Plus, Connect Plus
Analog Conventional, MPT 1327 compatible
Application developers kit (to enable 3rd parties to develop applications which interface to the repeater)
Technical Data
VHF (136-174MHz); UHF1 (400-470MHz); 300R1 (300-360MHz)
64 channel capacity
1-50 Watts power
100% duty cycle at full power
1U form factor
Weight 19 lbs (8.6 kg) – Dimensions (H x W x D) 1.75 x 19 x 14.6 in (44 x 483 x 370 mm)
No self quieting frequency requirements
Maritime compliancy for U HF1 model
NOTE: In order to meet the applicable Maritime standards the UHF1 repeater must be installed with an AC Filter
(part number: DSFMT00FM03). To order this filter please contact a member of the Motorola Order Management team.